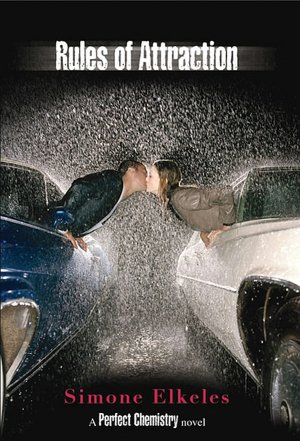 Book: Rules of Attraction
Author: Simone Elkeles
Rating by me: 2 out of 5 stars
When Carlos Fuentes returns to America after living in Mexico for a year, he doesn't want any part of the life his older brother, Alex, has laid out for him at a high school in Colorado . Carlos likes living his life on the edge and wants to carve his own path—just like Alex did. Then he meets Kiara Westford. She doesn't talk much and is completely intimidated by Carlos' wild ways. As they get to know one another, Carlos assumes Kiara thinks she's too good for him, and refuses to admit that she might be getting to him. But he soon realizes that being himself is exactly what Kiara needs right now.
My thoughts:
After reading all the epic reviews on goodreads and barnsnoble I was ecstatic to get my hands on this novel.
Perfect Chemistry
is one of my favorite books and I practically jumped for joy when I found out there was going to be a sequel. Who can deny that the cover is awesome!? I would probably buy this book just because the cover is so kick butt. Sadly everything in between the cover left little to be desired. The two main characters, Carlos and Kiara are so annoying and whiny. Plus what is up with Kiara's parents!? If some kid tried to hook up with my daughter under my roof I'd go ballistic, instead all they say is, "Did you use protection?" I was like WTF!? I thought the ending was pretty rushed as well. It went from climax to end in like 2 chapters. I think that's enough venting about this book for now.
Anyways thanks for reading and have an awesome day! :)